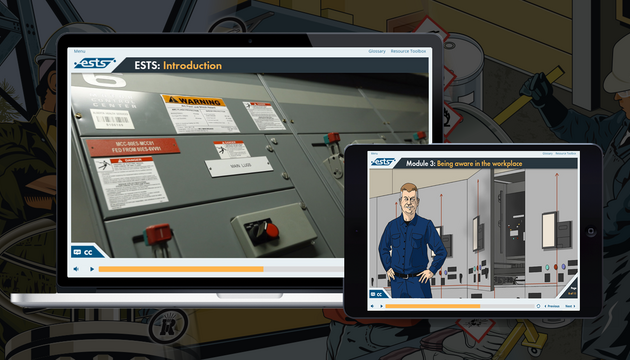 Electrical Safety Training System (ESTS) Electrical Worker 2018 – Canada, Arc Flash & Shock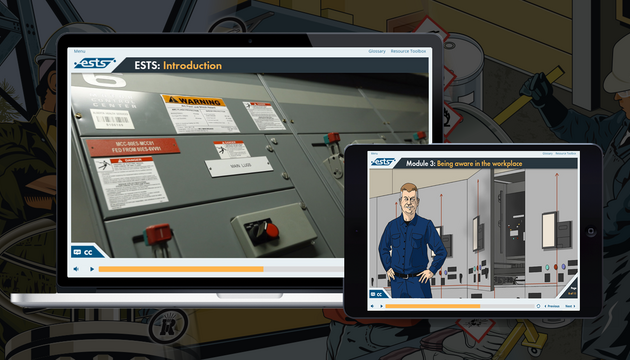 Description
The newest version of our 2018 ESTS course was developed for workers that perform energized electrical work. The overall course content was developed using industry accepted best practice standards as the underpinning in support of meeting Provincial or Federal regulatory due diligence for arc flash and shock.
ESTS Electrical Worker training is based on industry Standards and Regulation, providing documentation tools in support of the Employer's overall Occupational Health & Safety Management System and an Electrical Safety Program.  Employers are required to have an updated Electrical Safety Program based on industry Standards and Regulations for workers to receive the most benefit from this course.
Combined with educational best practices including Blume's taxonomy of learning: allowing learners to learn through visual, audio and kinetic means. Heinrich's Triangle of preventing Industrial Accidents is also utilized to interpret and manage risk. 
Learners will find training content is comprehensive and detailed, using interactive elements to help the student learn the concepts of how to apply the training in the field. Training is delivered from a first-person perspective and focuses on worker and supervisor relations. Additional videos and a 3D Virtual Electrical Workplace is used to illustrate the concepts.
Our online electrical training course is CSA Z462-18 and CSA Z1001-18 compliant.
Students who score 80% or greater earn their training certificate and can apply for 0.6 Continuing Education Units (CEU's). Final assessment questions are fully randomized so Workers never have the same exact questions.
Learning Objectives for Qualified Electrical Workers
Explain the Regulations and Standards applicable to their role and responsibilities.
Identify and understand electrical hazards and risk assessment.
Effectively manage electrical hazards by following the Work Flow Process to safely execute energized electrical work.
Learn how to complete an Arc Flash Risk Assessment and Shock Risk Assessment as part of an overall Risk Assessment Procedure (RAP).
Apply preventive and protective control measures to reduce risk.
Understand electrical incident emergency response and incident reporting requirements
Updated Features - 2018:
BRAND NEW fully updated and rebuilt course
NEW - Responsive design for all your digital platforms including laptops, tablets and mobile phones
NEW - Custom scenario illustrations
NEW - Learner Verfied Compatible
Updated Technical Features - 2018:
Significant changes to the Arc Flash Risk Assessment content - Now includes two updated individual risk assessments
Upgraded use of video and additional images to enhance practical in the field learning and application
Updated course from a technical view to a more immersive first-person perspective with the Work Flow Process
Content is now focused on interactions between employer and employees and supervisors and employees
This bundle includes the following products